An explosion of colour and colourful cuteness, Monsters University was my dream film. It's hilarious, and cute, and makes me want to cuddle Sully and go to American Universities because sororities look like the most fun EVER!
So The story of Monsters University goes back in time before Monsters Inc to discover how it came to be that Mike and Sully would become scare-ers and their journey to that point. It is not necessary to have seen Monsters Inc to enjoy this film, although there are some references, especially those at the end which you will be able to appreciate if you have seen it. Monsters University begins by following little Mike who dreams of going to Monsters University, after a lot of hard graft he gets there, but his dreams are quickly dashed when he realises that just because he is at the university on his course, it doesn't mean that he will stay for long if he can't prove himself to be a worthy scarer.
Through a lot of unfortunate circumstances both Mike and Sully who were rivals at the time are kicked off the course but decide to prove themselves by taking part in the Scare Games but to take part they must be part of a fraternity. The only one that will have them is Oozma Kappa whose chant is 'we're OK we're OK' To give you an idea of the kind of fraternity it is. However, it is filled with charming characters, my personal favourite being 'Smoothie' although no scarers. They take part and through luck, fortunate circumstances and Mikes hard work the underdogs climb their way to the top. The rest from then on is history, as they say.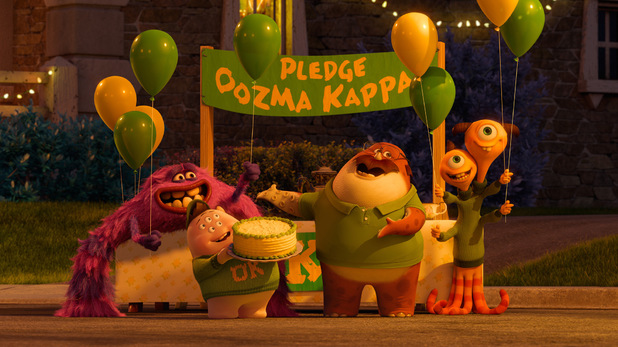 For a Pixar film it is not incredible, in the sense of Pixar's stunning originality in story lines, however, Monsters Inc was never my favourite Pixar film so perhaps I'm being biased from the very start.
I would see it again, and it did make me laugh out loud, a lot! But it didn't captivate my heart and leave me speechless like other Pixar films..Up..mentioning no names.