A read it on-the-go gold cuff!
I'm just kidding of course, but these really are super stylish and fun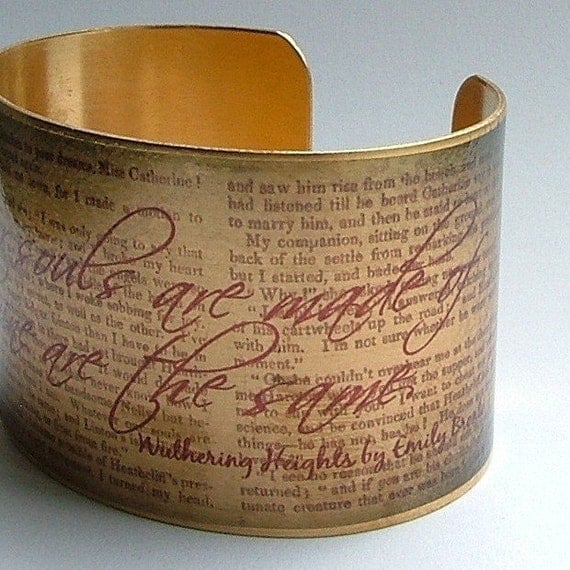 I came across this baby at
http://www.etsy.com/listing/62366640/wuthering-heights-book-emily-brontes
My heart nearly skipped a beat!
I've never seen something so beautiful and unusual and sophisticated and classic and timeless all in once piece! It contains the quote from Wuthering heights scribed on in red swishy writing "Whatever our souls are made of his and mine are the same"
It's so cute!
Although reading Wuthering Heights in school sure was no fun to me, It's pieces like this that help keep classics like that going on and on forever for generation after generation to read.
The people behind this company have all kinds of interesting designs, they have cuffs printed with music notes if your more of a musical kind of person, or roses, or alice in wonderland illustrations.
So many! Plus I love that it's free shipping all over the world!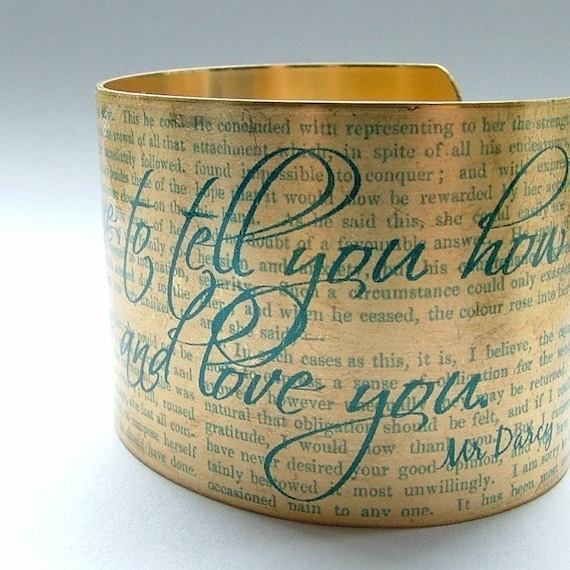 This one is my other favourite and it reads "You must allow me to tell you how ardently I admire and love you" from Pride and Prejudice
I can't decide on my favourite! Until I know what one I definately love the most I can't buy as I don't want to do an 'impulse buy' especially as it's £25 a pop
Let me know your favourite piece from the whole collection, here's their storefront: